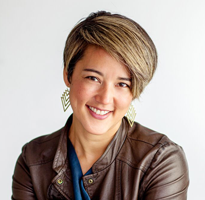 BACKGROUND
Megan Johnson is a video producer, editor, camera operator and tech director based in Denver, Colorado. Her productions have aired on FOX Sports Rocky Mountain, CNN, Frontier Airlines in flight TV, and Hillsong Australia. She holds two degrees in media production: a bachelors in Broadcast News Journalism from the University of Colorado, and a masters in Motion Media Design from Savannah College of Art and Design.  
CAPABILITIES
- video production
- on-site shooting and directing
- live event TD or cam op

- video editing
- motion graphics
- graphic design
- color grading
RATES
Basic hourly rate for production is $75, which includes the following equipment: Canon DSLR with lens, flattering light kit, audio lavalier mic and external recorder, neutral background, tripod, video editing machine with Adobe Creative Cloud and various plugins for added effects. All equipment except the editing machine is portable for on-location shooting.  Additional gear and support can be requested and is billed at cost.
2-day training workshops for Adobe Premiere or Adobe After Effects are $1800